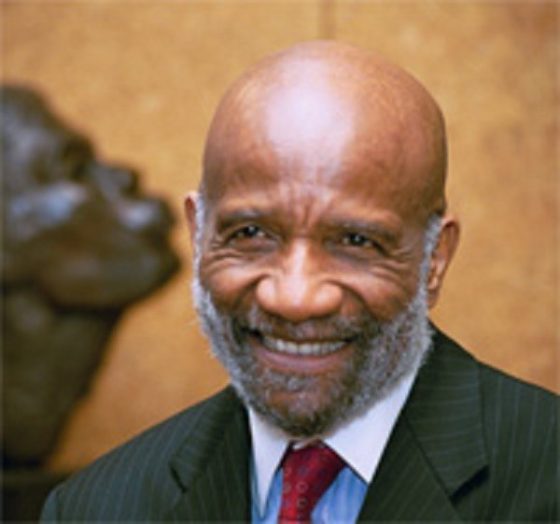 Lerone Bennett, Jr., is a renowned writer best known for his time spent working for Johnson Publishing Company as the associate editor of Ebony and Jet until he became the chief editor in 1960. Bennett wrote numerous articles on African American history, resulting in the title "resident historian" of Johnson Publishing Company. One of his most noted work, Before the Mayflower: A History of Black America (1962), gives a chronological account of the African American experience in America.
Bennet was born in Clarksdale, Mississippi, the son of the Lerone and Alma (Reed) Bennett. He and his family relocated to Jackson, Mississippi, where he attended public schools. After completing his primary education, Bennet went on to attend Morehouse College where he graduated with Bachelor of Arts degree in 1949. That same year, he attended Atlanta University for graduate study.
While living in Atlanta, Bennet became a journalist for the Atlanta Daily World in 1949, continuing until 1953 and he worked as city editor for JET magazine from 1952-53.
Bennett has also wrote poetry and fiction novels along with lecturing and teaching African American history. He has received honorary degrees from Morehouse, Lincoln University, and the University of Illinois. He received the Literature Award from the American Academy of Arts and Letters in 1978. In his writings, Bennett established himself as a shrewd observer of society's racial injustices, articulating how people of color can overcome bigotry.
Bennett Jr. is one of Mississippi's most successful black writers of the twentieth century. His writing career includes "Before the Mayflower: A History of the Negro in America, 1619-1966," "The Negro Mood," "What Manner of Man: A Biography of Martin Luther King Jr.," "Confrontation: Black and White," "Black Power U.S.A.," and several others.
sources:
http://nathanielturner.com/leronebennettbio.htm
http://www.aaregistry.org/historic_events/view/lerone-bennett-jr-classical-author