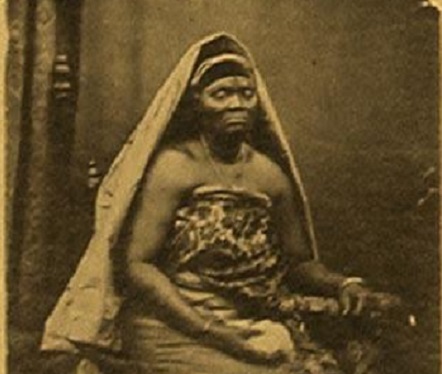 Madam Efunroye Tinubu (c.1805-1887)
Madam Tinubu was born in Yorubaland, an area in what is now known as Nigeria. She was a major political and business player, who campaigned against the influence of the British Empire over her people and for the elimination of slavery.
She became the first Iyalode of the Egba clan and is considered an important figure in Nigerian history because of her political significance as a powerful female aristocrat in West Africa. Iyalode  (queen of ladies) is a title commonly bestowed on the most prominent and distinguished woman in a town.
After Tinubu, a former slave trader herself, realized the treatment of Africans enslaved in Europe and the Americas was far more inhumane than the way slavery was practiced in Africa, she became a scathing opponent of all forms of slavery and used her influence to try to eliminate the practice in her region.