BY WALTER OPINDE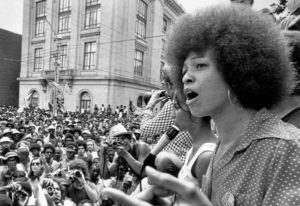 Angela Davis is an African-American civil rights activist, scholar, and author who advocates for the oppressed people of color in the U.S. She is an author of several books on the topics of politics, culture, race, and gender disparity.
Angela Davis was born on 26th January, 1944, in Birmingham, Alabama. She became a master scholar, who studied at the Sorbonne and later joined the U.S. Communist Party. Angela was jailed for charges relating to prison outbreaks but was later cleared after being found innocent. She is famous for writing books such as the "Women, Race & Class," besides working as a professor and civil rights activist who advocates for prison reforms, gender equality, as well as alliances with all people of color.
Angela emerged as a prominent and famous counterculture human rights activist and a radical leader during the 1960s, when she headed the Communist Party of the U.S.A. She also had very close relationship with the "Black Panther Party" as seen during her involvements in the Civil Rights Movements.
Angela Davis was arraigned for the issue of the conspiracy involving the 1970 armed take-over of a Marin County, California, courtroom, during which four people were killed. However, she was later acquitted in the federal trial. She is retired professor at the University of California, Santa Cruz, who served in the "History of Consciousness Department." As well, she is a former director of the Feminist Studies Department at the same university.
Davis's interests and focus, as revealed by her research works, were on the topics relating to the philosophies and history of punishment and prisons, the African-American culture and studies, social consciousness, feminism, Marxism, critical theories, as well as the popular music. As such, she, alongside other fellow activists, founded the Critical Resistance Group, an organization that works towards the abolition of the industrial- prison complex. Angela's membership at the Communist Party USA, prompted the California Governor- Reagan Ronald, in 1969, to champion for her deterrence from teaching at any of the university within the State of California.
Angela had grown to become a resilient supporter of three prison inmates of the Soledad Prison; famously referred to as the "Soledad Brothers."  The three men: George Jackson Lester, Fleeta Drumgo, and John Cluchette were accused of killing a prison warden after several Black inmates had been killed in cold blood fight by another warden.
After spending her dedicated time lecturing and traveling, Angela Davis is today a professor at the University of California, Santa Cruz, where she lectures on the courses relating to the history of consciousness.
Read more of the original story via: http://www.jsonline.com/story/news/local/milwaukee/2017/03/29/civil-rights-activist-angela-davis-movements-matter/99724974/