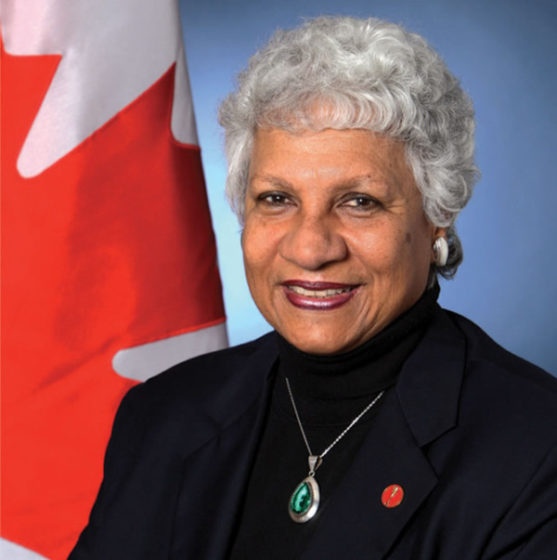 Anne Clare Cools made history when she became the first Black Canadian appointed Senate.
Cools was born in Barbados on August 12, 1943. Her family immigrated to Canada in 1957 from the Caribbean when she was 14 years old. The family later settled in Montreal where Cools attended Thomas D'Arcy McGee High School.
After completing high school, Cools enrolled at McGill University where she received a B.A. in Sociology and Psychology. While attending McGill University, Cool became involved in radical campus politics. She participated in a 10-day-sit-in at Sir George Williams University, protesting alleged racism at the school. The results were two million dollars in damage to computer equipment. Cools spent four months imprisoned for participating in the sit-in but was not charged with damage to the equipment.
Cools moved to Toronto where she founded the first shelters for abused women in Canada, Women in Transition Inc., she served as its executive director.
In 1978 and 1979, she ran in the election for Canadian House of Commons for the Liberal Party but was defeated. Cools was summoned to the Canadian Senate by then Governor General Edward Schreyer, on the recommendation of Prime Minister Pierre Trudeau in 1984.
In the 1990s, she served on the Senate/House of Commons of Canada Special Joint Committee on Child Custody and Access, which in December 1998 issued its report, For the Sake of the Children.
On June 9, 2004, she announced that she was crossing the floor to join the Conservative Party of Canada. Cools was vocal in criticizing the liberal governments of Jean Chretien and Paul Martin after the passing of a motion of non-confidence against his government in 2005. She was removed from the Conservative caucus in 2007 for speaking out against Prime Minister Stephen Harper and for voting against the 2007 budget.
Cools is the first female black Senator in North America and with the retirement of Charlie Watt, she is the last Senator appointed by Pierre Trudeau remaining in the Senate.
sources:
http://senatorcools.sencanada.ca/Biography