BY WALTER OPINDE
The Frederick Douglass Memorial Hospital and Training School was established by a black doctor on August 28, 1895, Dr. Nathan Mossell F., in Philadelphia, Pennsylvania, United States.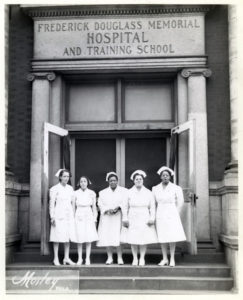 The institution was black-owned and operated, offering healthcare services to the African-American community in Philadelphia, alongside the provision of training in nursing. The institution also provided professional opportunities for the training and employment of black physicians.
The full medical facility was founded to serve all those who had the interest in the progress and welfare of the city's African-American community, extending its services to other people of color. Dr. Mossell, alongside other significant black figures such as Professor Jacob White, were quite instrumental in the establishment of the hospital. Dr. Nathan Mossell was a chief-staff, medical director, and surgeon at the Frederick Douglass Memorial Hospital and Training School for almost four decades, 38 years to be precise. His first degree in medicine was received from the University of Pennsylvania in 1882. Dr. Mossell is also in the historical records for being the first African-American to be elected to the Philadelphia County Medical Society membership in 1888. He became a dedicated and steadfast advocate of the postgraduate physician training, which was a rare phenomenon during the late 1800s. As such, he introduced the postgraduate program at the Douglass Memorial Hospital and Training School.
The primary purpose of Douglass Memorial Hospital and Training School was to offer care services to the sick people who were often denied access or rejected at the whites' health facilities. As well, the facility aimed at making the physician opportunities affordable to the black community, and offers training to the aspiring black nurses who could not get training at the white nursing schools.
The initial funding for the Frederick Douglass Hospital was from the funds raised by the black community in Philadelphia. The other notable auxiliaries from which the facility received funding included the well-wishers or supportive individuals such as Miss Susan Wharton and Mrs. William Jenks, alongside prominent entrepreneurs such as Madame C. J. Walker. From its start, organizations like churches and fraternal groups, such as the Progressive Club, also showed their supportive wills by offering financial support, which totaled to approximately $77,500.
Frederick Douglass Memorial Hospital continued with offering training and care services to the black community before its 1948 merger with Mercy Hospital, coming up with the Mercy-Douglass Hospital. Thereafter the facility remained open, discharging its duties to the black community until its closure in 1973 due to financial and leadership hitches. No one was ever turned away from the hospital's treatment or training services due to his/her color, age, race, or poverty status, color, age, race, or poverty status.
"Read more of the story from http://www.archives.upenn.edu/primdocs/upf/upf1_9ar/mossell_nf/douglass_hosp_by_gordon.pdf"
Sources
U.S. National Library of Medicine. The Opening Doors to the Contemporary African-American Academic Surgeons: Pioneers in Academic Surgery. Retrieved (2017) from https://www.nlm.nih.gov/exhibition/aframsurgeons/pioneers.html