Renee Cox is an American artist of Jamaican descent. Born in Colgate, Jamaica, on October 16th, 1960, she and her middle-class family later settled in Scarsdale, New York.
It Shall Be Named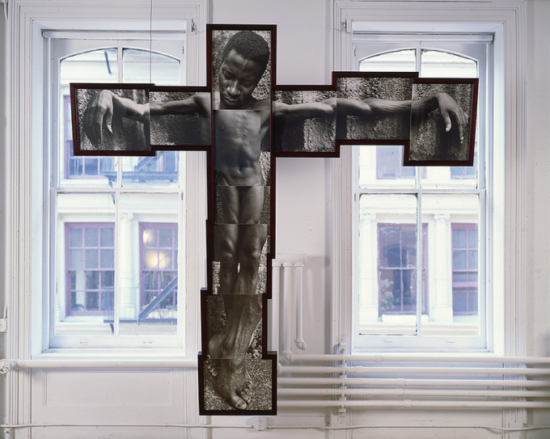 Cox got her start with 1994's "It Shall Be Named." She constructed the art piece with images of a lynched Black man who is being crucified. In the majority of her artwork, Cox tackles race and religious hypocrisy in her work. Thus, this work catapulted her to a wider range of audiences.
Yo Mama's Last Supper

Cox entitled one of her most famous collections, "Flipping the Strip." The entire collection refers to the intersectionality of race and religion. Due to Leonardo da Vinci's 15th century "The Last Supper," Cox was inspired to create "Yo Mama's Last Supper" in 2001.
Cox's entitlement pays homage to African-American vernacular. da Vinci depicts Judas with a shadowed face, also with black kinky hair and dark skin. Cox rebukes the "White is Right" stereotype, by depicting Judas as white. Cox also depicts him as unshameful due to his forward gaze.
In this painting, Cox is posed as Jesus. Cox wears dreadlocks as a symbol of Black culture. She depicts the other eleven apostles as men of African descent. Some of the men have dreadlocks while others wear afros.
Former NYC Mayor Rudolph Giuliani wanted to pass a commission for "decency standards" because of Cox nude body. The commission aimed to prohibit publically-funded New York museums from showing it. Cox's response called for individual artistic expression.
In 1996, Cox obtained her Master's of Fine Arts from Syracuse University. A year later, she was a member of an Artists-in-Residence Program. Cox received the Aaron Matalon Award for her collection "Queen Nanny of the Maroons," ten years later.
To learn more about Renee Cox and her artwork, please visit the sites below:
http://theculturetrip.com/caribbean/jamaica/articles/renee-cox-challenging-stereotypes-and-empowering-minorities-through-art/