Extraordinaire guitarist, singer and songwriter, Chuck Berry took the world by storm in the 1950s. Berry created songs such as "Maybellene" (1955), "Roll Over Beethoven" (1956), "Rock and Roll Music" (1957) and "Johnny B. Goode" (1958).
Berry was born into a middle-class Black family in St. Louis, Missouri. He was the fourth child in a family of six and grew up in the north St. Louis neighborhood known as The Ville, an area where middle-class St. Louis people lived at the time. His father, Henry, was a contractor and deacon of a nearby Baptist church; his mother Martha was a certified public school principal.
As a young boy, Berry had an interest in music and entertaining. His first public performance was at Sumner High School. Berry spent time in jail as a teenager for armed robbery from 1944 to 1947. After getting out of jail, he married and worked at an automobile plant.
In 1955, Berry's big break came when he traveled to Chicago and met Muddy Waters, who made suggestions as to who Berry should contact in the music business. Berry went on to record with Leonard Chess of Chess Records. He recorded "Maybellene," which sold over a million copies. By the end of the 1950s, Berry was an established star with several hit records and film appearances to his name as well as a touring career. He had also established his own St. Louis-based nightclub called Berry's Club Bandstand.
However, in January 1962, Berry was sentenced to three years in prison for offenses under the Mann Act, as he reportedly transported a 14-year-old girl across state lines. After his jail release in 1963, Berry recorded many other hits. He again served 120 days in jail for tax evasion, and after his release, he continued his music career.
At the request of Jimmy Carter, Berry performed at the White House on June 1, 1979. Berry was among the first musicians to be inducted into the Rock and Roll Hall of Fame on its opening in 1986.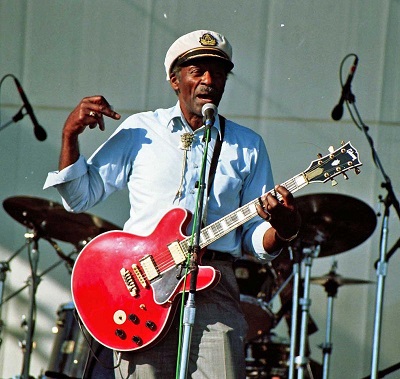 sources:
http://chuckberry.com/
http://www.imdb.com/name/nm0001946/