Rosemary Brown holds the distinction of being Canada's first black female member of a provincial legislature and the first woman to run for leadership of a federal political party.
Brown was born in Kingston, Jamaica in 1930, and moved to Canada in 1951 to study social work at McGill University in Montreal. She proceeded to earn a Master of Social Work at the University of British Columbia.
After completing her education, Brown served as a Member of the Legislative Assembly (MLA) in the British Columbia legislature as a part of the New Democratic Party from 1972-86, making her the first Black Canadian woman to be elected to a Canadian provincial legislature.
Brown also became the first black woman in 1975 to run for the leadership of a Canadian federal party. She finished second to Ed Broadbent in that year's New Democratic Party leadership election. After retiring from politics, Brown worked as a professor of women's studies at Simon Fraser University. She was later appointed Chief Commissioner of the Ontario Human Rights Commission, a position she held until 1996.
Brown was awarded the Order of British Columbia and in 1996 was named an Officer of the Order of Canada. She was also sworn to the Queen's Privy Council for Canada as a member of the federal Security Intelligence Review Committee, responsible for overseeing the actions of the Canadian Security Intelligence Service, a role which she held from 1993 to 1998. Rosemary Brown died after suffering a heart attack on April 26, 2003, she was 72.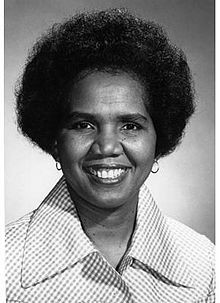 source:
https://en.wikipedia.org/wiki/Rosemary_Brown_(politician)