The University of Georgia in Athens (UGA) was desegregated by Hamilton Holmes, as he was one of the first two black students admitted to UGA in 1961. Holmes was also the first black student admitted to the Emory University School of Medicine in Atlanta.
Holmes was born July 8, 1941, in Atlanta to Alfred Holmes, a businessman, and Isabella, a school teacher. Holmes was always studious in school and athletic. He knew early on that he wanted to follow in his grandfather's footsteps and become a physician. Holmes attended Atlanta's Henry McNeal Turner High School, which was one of the most prestigious high schools for black students in Atlanta. Turner graduated in 1959 as valedictorian. He also served as president of his senior class and co-captain of the school's football team.
Interested in attending college, Holmes first toured Georgia State College of Business Administration. It was a promising campus for desegregation, but lacked the curriculum Holmes wanted. Holmes had planned to attend Morehouse College, but if he could get into the University of Georgia, it would provide him access to science facilities not available at historically black schools during that time.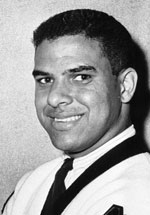 Holmes applied to UGA along with friend Charlayne Hunter. Both were denied admission for the fall of 1959. Holmes subsequently enrolled in Morehouse, distinguishing himself as both a student and a football player. Meanwhile, a legal team that included Constance Baker Motley of the NAACP's Legal Defense and Education Fund, and Atlanta attorneys Donald Hollowell, Vernon Jordan, and Horace T. Ward (who had lost his own legal battle to enter UGA's law school in the 1950s), worked on Holmes and Hunter's behalf.
Each new school quarter, Holmes and Hunter continued to resubmit their applications but continued to be rejected each time. In September 1960, Hollowell and Motley filed for an injunction seeking to prohibit UGA from "refusing to consider Holmes's and Hunter's applications and those of other Negro residents of Georgia for admission to the University." Their request was denied, but a full trial on the matter was later held in Athens in December 1960.
On January 6, 1961, Judge William Bootle issued his ruling, stating that Holmes and Hunter "would have already been admitted had it not been for their race and color." As a result, UGA immediately admitted the two, who became the university's first African American students since its founding in 1785.
When Holmes and Hunter arrived at the school to register, they were met with crowds shouting racial slurs and chanting, "Two, four, six, eight. We don't want to integrate!"
At one point, a riot broke out at the school after a basketball game. Bricks, rocks, and bottles were thrown; it took the Athens police department, who were armed with tear gas, to break up the crowd. Holmes and Hunter had to be escorted back to Atlanta by the state patrol for safety measures, but the court's order that the two be allowed to return to campus after being suspended by the university.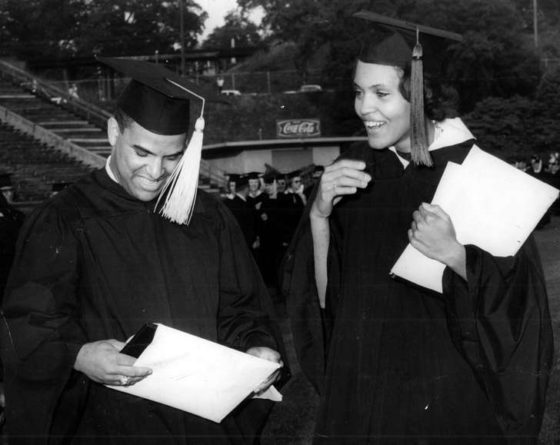 Holmes kept to himself and spent his time focused on his studies. He lived off campus and would return home on the weekends. He was elected to both Phi Beta Kappa and Phi Kappa Phi honor societies, and graduated cum laude with a Bachelor of Science degree in 1963, a year after the first black graduate, Mary Frances Early.
In the fall of 1963, Holmes became the first black student admitted to the Emory University School of Medicine. After his 1967 graduation from Emory, Holmes began his residency at Detroit General Hospital, leaving in 1969 to serve as an army major in Germany. He returned to Emory to complete his residency, after which he became a member of the Emory faculty as an assistant professor of orthopedics.
In 1992, Holmes and Hunter-Gault established an academic scholarship for African-American students attending UGA. Holmes died in 1995.
sources:
http://www.anb.org/articles/12/12-02111.html
http://www.civilrights.uga.edu/cities/athens/hamp1.htm
http://www.georgiaencyclopedia.org/articles/history-archaeology/hamilton-holmes-1941-1995