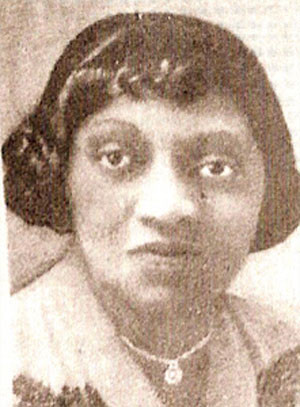 Dr. Elizabeth Coles was a founding member of the National Association of Ministers' Wives. Coles parents were both missionaries in Liberia and in 1893, they returned to Virginia.
After high school, Coles wanted to be a missionary, but there was no support for unmarried female missionaries. She began her studies at the Armstrong Normal School and prepared to teach. Later she enrolled as the only female student in the Theological Seminary of Virginia Union University.While preparing for a career as a teacher, she received a letter from Edward H.
While preparing for a career as a teacher, she received a letter from Edward H. Bouey. Edward H. Bouey, a product of Morehouse College, was also the son of missionary parents who worked in Africa. Bouey proposed marriage the first time he met Coles. The two married and traveled to Liberia to continue her parents work.  Support from home was generously given to the couple by family and friends in the United, who twice a month sent boxes of needed supplies from the Coles' home in Richmond which served as headquarters.
The two ran a school and began a hospital in Liberia. In 1929, they returned to Richmond with their children and an adopted an African child. Bouey became a public school teacher but found time to study theology at Virginia Union University and to earn a master's degree in education from Columbia University.
Knowing of the lack of training available for ministers' wives, Dr. Bouey proposed a national association for them. Her idea was well received in the region, and the first chapter of the National Association of Ministers' Wives was founded in Richmond in 1939. Dr. Bouey organized other chapters throughout Virginia and corresponded with other minister wives throughout the United States.
The first national conference took place in Richmond in 1941, and Dr. Bouey was elected president, a post she held until her death. Over the next sixteen years, Dr. Bouey oversaw members from more than thirty states and from West Africa; the establishment of the organization's journal, Ministers' Wives Herald; and the purchase of a building in Richmond.
source:
http://iamwmw.com/our-founder/