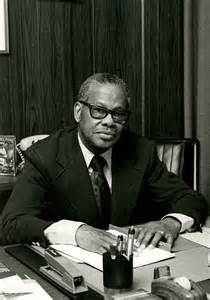 Dr. Leonidas Harris Berry was a renowned physician in gastroscopy and endoscopy. He served as the president of the National Medical Association from 1965 to 1966. In addition to having a long and distinguished medical career, he was active in teaching, writing, and community public service. His work in community public services included work in civil rights, regarding the lack of adequate care for African Americans.
Berry, a descendant of a self-liberated African who fought in the U.S. Civil war on the side of the Union army, was born in Woodsdale in Person County, North Carolina, and raised in Norfolk, Virginia. After graduating from Wilberforce University in 1924, Berry moved to Chicago. he received a second B.S. degree from the University of Chicago, followed by a M.D. degree from the Rush Medical College of the University. In 1933, he also received a M.S. degree in Pathology from the University of Illinois Medical School. He briefly worked for the Freedman's Hospital in Washington, D.C., and went on to secure a position at Cook County Hospital in Chicago; where he specialized in gastroenterology.
Dr. Berry went on to establish the Council for Biomedical Careers, which provided community education on topics such as nursing, medical technology, pharmacy, and dentistry. His intentions were to motivate other black men to enter into bio-medical careers.
In the early 1950s, while Dr. Berry served as president of Cook County Hospital's Physician Association, he started to implement the "Berry Plan," a citywide movement that provided medical and psychological for the prevention and follow-up care of young people who were addicted to drugs. His plan was implemented and operated by the Illinois State Department of Health.
Dr. Berry retired in 1975. In addition to his medical career, he was active in community and civil rights endeavors. His efforts were  focused on racial disparities present in public health that disproportionately impacted black patients. He was also authored a genealogical history about his family, titled I Wouldn't Take Nothin' For My Journey: Two Centuries of an Afro-American Minister's Family, which was published in 1982.
During his lifetime, Dr. Berry received several awards and recognition for his work, such as the Distinguished Service Award from the National Medical Association, the Freedom Award for Public Service from the Chicago Chapter of the NAACP, and the First Annual Clinical Achievement Award from the American College of Gastroenterology. Dr. Leonidas Berry died in 1995; he was 93.
sources:
Remembering the Work of Dr. Leonidas Berry