"Our role is to support anything positive in black life and to destroy anything negative that touches it." – Elma Lewis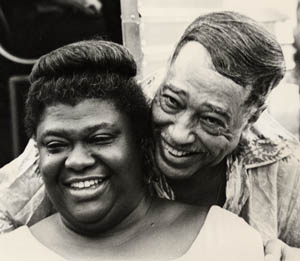 Pioneering arts activist and educator Elma Lewis spent years educating students in the Boston Public Schools. Lewis taught dance, drama, and speech therapy.
Lewis was born on September 15, 1921 in Boston, Massachusetts. Her parents, Clairmont and Edwardine Lewis, emigrated from the West Indies and were followers of Marcus Garvey, founder of the Universal Negro Improvement Association. Because of the exposure Lewis received to Garvey's ideals she was instilled with racial pride which influenced her commitment to promote African culture.
Educated at the Boston Public Schools, Emerson College (B.L.I., 1943), and Boston University School of Education where she received a Masters in Education. After graduating from BU, Elma Lewis taught speech therapy at the New England Hospital, Massachusetts Mental Health Center, and the Habit Clinic of Boston.
In 1950, she established the Elma Lewis School of Fine Arts. During a time of political and racial strife in the 1960s, Lewis looked for a way to bring peace through the school's she founded "Playhouse in the Park Program," a summer theater in Franklin Park.
She also founded the NCAAA two years after opening the Playhouse, and she was able to coordinate her new endeavor with the school she had founded. The NCAAA often drew upon students from the ELSFA to populate its performing companies, which toured all over the world.
Lewis' career brought numerous honorary doctoral degrees, including an honorary Art.D. degree from Harvard University. She also served as a board member for various prestigious organizations, including the American Academy of Arts and Sciences, Congressional Black Caucus, Metropolitan Cultural Alliance, and NAACP. Lewis was also one of the first women to receive a MacArthur Foundation "Genius Grant" in 1981 Elma Lewis died in 2004.
sources:
http://bwht.org/elma-lewis/
http://www.emerson.edu/diversity/elma-lewis-center/elma-lewis