Eloise Greenfield is an African-American writer who is best known for children's books.  Greenfield was born in Parmele, North Carolina, to Weston W. Little and Lessie Jones Little. She grew up in a public housing development, Langston Terrace, in Washington, D.C. Greenfield has recalled only fond memories of her time spent in Langston Terrace, as the library was two minutes from her back door.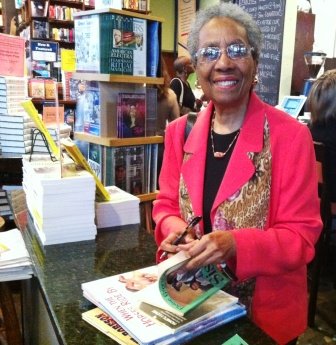 Greenfield was educated at Miner Teachers College, the principal school for training black teachers in the city, from 1946 to 1949. Her first job was as a clerk typist with the U.S. Patent Office.
She began writing books due to the lack of resources available to African-American children. Greenfield first wrote humorous rhymes and songs. She later tried her luck with three short stories. Although they were rejected, she kept practicing her writing until she was published.
Greenfield set out to fight racism through her literature. Greenfield's first book, "Bubbles," was published in 1972. She won several awards for her books, such as "Honey, I Love," "Grandpa's Face," "Rosa Parks, "MJ and Me," and several others.
She headed the Adult Fiction and Children's Literature divisions of the D.C. Black Writers' Workshop, a group whose goal was to encourage the writing and publishing of African-American literature. She also gave free workshops about writing African-American literature for children.
In 1976, she was honored with the Women's International League for Peace and Freedom. In 1990, she was honored with the Recognition of Merit Award from the George G. Stone Center for Children's Books. She also won the Award for Excellence in Poetry for Children, given by the National Council of Teachers of English, as well as a lifetime achievement citation from the Ninth Annual Celebration of Black Writing and a Notable Book citation from the American Library Association, among other honors and accolades. In 2013, she received the Living Legacy Award from the Association for the Study of African American Life and History.
sources:
http://www.scholastic.com/teachers/contributor/eloise-greenfield
http://www.eduplace.com/kids/hmr/mtai/greenfield.html