Halle Tanner Dillon Johnson was born in Pittsburgh, Pennsylvania, in 1864. She was the oldest daughter of Benjamin Tucker Tanner, a well-known and prominent minister in the African Methodist Episcopal Church. Halle was mostly raised in Philadelphia and exposed to several influential African American social and political activists, including Frederick Douglass. She worked with her father on the Christian Recorder and AME Review, publications which aimed to spread important information to African American communities throughout the nation.
Halle married her first husband, Charles Dillon, at the age of 22. Two years later, Dillon died and Halle returned to her family's home. During this time, Johnson attended the Woman's Medical College of Pennsylvania, graduating in 1891 with honors. While attending medical school. she was nominated for a teaching position at Tuskegee Institute.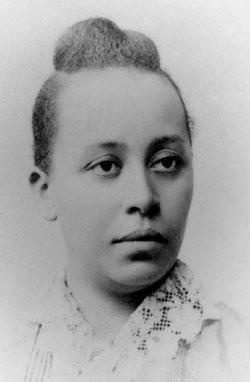 During her medical studies, she learned of a job opportunity as resident physician at Tuskegee Institute. She contacted Booker T. Washington, the Principal of Tuskegee, who appointed her and helped her prepare for the state medical examination. She passed the ten day examination and ultimately became the first African American woman to practice medicine in the state of Alabama.
At Tuskegee University, she served as a physician, pharmacist, teacher, and ran a private practice. During this period, she also founded a pharmacy and a training school for nurses. She was also responsible for the health care of the school's 450 students and 30 faculty and staff members.
In 1894, Dillon married her second husband, Reverend John Quincy Johnson, an aspiring theologian and mathematics professor at Tuskegee Institute. The couple had three children, but in 1901, she died of complications from childbirth.
source:
http://www.blackpast.org/aah/johnson-halle-tanner-dillon-1864-1901
http://afroamhistory.about.com/od/biographies/a/Biography-Of-Halle-Tanner-Dillon-Johnson.htm