Adinkra (meaning goodbye or farewell in Twi) symbols are symbol drawings of concepts, values, proverbs, and philosophies created by the Akan and Gyaaman people of what is now Ghana and parts of Côte d'Ivoire. When first developed around the sixteenth century, Adinkra was only used for royalty and spiritual leaders for funerals and other important ceremonies.
At the beginning of the nineteenth century, the Gyaaman people attempted to take the Asante's golden stool, which is the symbol of the Asantes. During the struggle, the Gyaaman king was killed and his adinkra robe was taken by the Asantehene (king) Nana Osei Bonsu-Panyin. When the robe was taken as a trophy, with it came the knowledge of the printing process. With time the Asante people gave meaning to the symbols with values and proverbs that reflected the culture.
Adinkra symbols are often printed on fabrics used for special occasions and parties. Traditionally, the ink used to print Adinkra symbols is called adinkra aduru, which is made by boiling the bark of Badie trees with iron slangs. Today, adinkra symbols are widely popular, printed on fashionable clothing and accessories such as earrings and necklaces.
Adinkrahene
Adinkrahene
"Chief or King of the adinkra symbols"
-Greatness, charisma, leadership
Ananse Ntontan
"Spider's web"
-Wisdom, creativity, complexity of life
Dwennimmen
"Ram's horns"
-Humility and strength
Fawahodie
"Independence"
-Independence, Emancipation, Freedom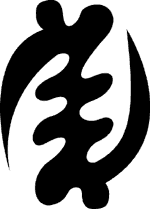 Gye Nyame
"Except for God"
Supremacy of God
Nkyinkyim
"Twisting:
-Dynamism, versatility, initiative

Sankofa
"Return and Get it"
-Learn from the Past, returning to your roots
Source: http://www.adinkra.org/htmls/adinkra/sank.htm
http://www.stlawu.edu/gallery/education/f/09textiles/adinkra_symbols.pdf