The Liberty Ship Booker T. Washington was the first major U.S. oceangoing vessel to be named after an African-American. The ship was designed and built by the California Shipbuilding Corp. at Terminal Island Los Angeles. World renowned singer Marian Anderson christened the ship.
The ship made its first trans-Atlantic crossing in 1943 from New York City to Great Britain under the command of Captain Hugh Mulzac. Mulzac was born in the British West Indies in 1886. He went to sea after high school, sailing on British vessels. He later attended the Nautical School in Swansea in the United Kingdom, earning a mate's license. He became a citizen of the United States in 1918.
Mulzac remained the ship's captain for four years and insisted that his crew be integrated. The ship had 18  nationalities on board. He had 22 successful voyages.
After World War II, the ship hauled coal for the Luckenbach Steamship Company under the command of another Black shipmaster, Captain James H. Brown, Jr. In 1947, the vessel was laid up in the defense reserve fleet, where it remained for the next 22 years.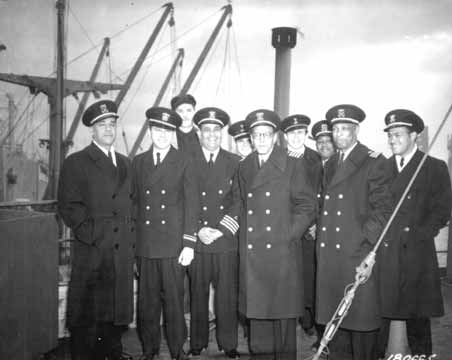 source:
http://btwsociety.org/library/honors/13.php