Baseball player Mamie Johnson was one of three women to play in the Negro Leagues, and was the first female pitcher. Johnson was born in Ridgeway, South Carolina, and was the daughter of Gentry Harrison and Della Belton Havelow. As a young girl, she stayed in the yard playing baseball every chance she could get. She left home to pursue her college education in 1943, but vowed to always play the game she loved. In college, she continued to play while attending New York University.
At the age of 17, Johnson was refused approval to join an all-white professional girl baseball team. However, Johnson did not allow that to stop her from playing the game. She later played with the Alexandria All-Stars, St. Cyprians, and other semi-pro baseball teams around the Washington, D.C. area.
When she was 19, she became a member of the Indianapolis Clowns baseball club and pitched for three years. The same year, Johnson finished with an 11-3 record. In 1954, Johnson went 10-1, and in 1955, she finished 12-4. She hit between .252 and .284 in each season. While playing the game, Johnson won 33 games and lost 8.
For two seasons as a member of the Clowns, Johnson was a teammate of future home run leader, Hank Aaron. She also credits her pitching success to a lesson she learned from "Satchel" Paige, who taught Johnson to throw her curveball.
Johnson worked as a licensed nurse for 30 years after her baseball playing days were over. She also operated the Negro League's Baseball Shop in Bowie, Maryland, which specialized in hats, memorabilia, and clothes honoring Negro League stars.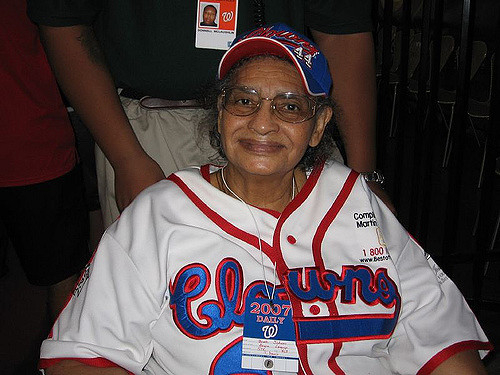 source:
http://www.npr.org/templates/story/story.php?storyId=1164167