Ralph Harold Boston is a retired track athlete who is best remembered for the long jump, in which he was the first person to break the 27 feet (8.2 m) barrier set by Jesse Owens.
Boston was born in Laurel, Mississippi on May 9, 1939. He attended Tennessee State University, where in 1960 he won the national collegiate long jump title. During the same year, Boston broke the world record in the event, held by Jesse Owens for 25 years, at the Mt. SAC Relays. Already the world record holder, he improved the mark past 27 feet, jumping 27′ 1/2″ at the Modesto Relays on May 27, 1961.
He  later qualified for the Summer Olympics in Rome, where he took the gold medal in the long jump, setting the Olympic record at 8.12 m (26 ft 7 1⁄2 in), while narrowly defeating American teammate Bo Roberson by a mere centimeter. Boston won the Amateur Athletic Union (AAU) national championship in the long jump six times in a row from 1961 to 1966. He also had the longest triple jump for an American in 1963.
After retiring from competition, Boston moved to Knoxville, Tennessee, and worked for the University of Tennessee as Coordinator of Minority Affairs and Assistant Dean of Students from 1968 to 1975. He was the field event reporter for the CBS Sports Spectacular coverage of domestic track and field events. He was inducted into the USA Track and Field Hall of Fame in 1974 and into the U.S. Olympic Hall of Fame in 1985.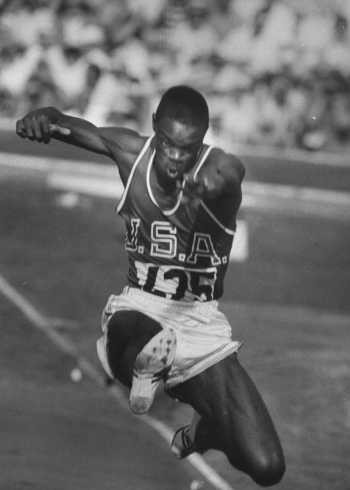 source:
http://tennesseeencyclopedia.net/entry.php?rec=112
https://en.wikipedia.org/wiki/Ralph_Boston