Aviator Rose Agnes Rolls Cousins was the first black woman to become a solo pilot in the Civilian Pilot Training Program at West Virginia State College.
Growing up, Cousins was interested in all "boy" type activities. She often competed against her brother in various outdoor sports. After high school, she entered West Virginia State at the age of 16 where she majored in business administration. However, as she learned more about the pilot's program, old childhood feelings about the desire to fly resurfaces.
In 1940, her dreamed came true when she learned to fly. Reportedly telling the instructor, ''I'll just put my hair up and you can pretend I'm a man.'' In an open cockpit, Rose learned to put the plane into a spin, fly upside down, and land with the engine off. In order to qualify for a license, she completed a cross-country flight alone, guided only by sight and a compass.
Cousins enrolled in Tuskegee Institute's flight program in 1941 with the first group of 10 male students from West Virginia State College to try out for the Air Force training program for black combat pilots. She was rejected because of her gender. Returning to West Virginia she was employed by West Virginia State College for a short time.
She eventually returned to Fairmont to care for her parents and spent the majority of her working life at Fairmont Clinic where she became manager of medical records. She later moved to her daughter's home in Washington, D. C. where she died. Though she found little opportunity to use her flying skills, Rose Cousins is remembered for her courage and determination put into becoming a pilot.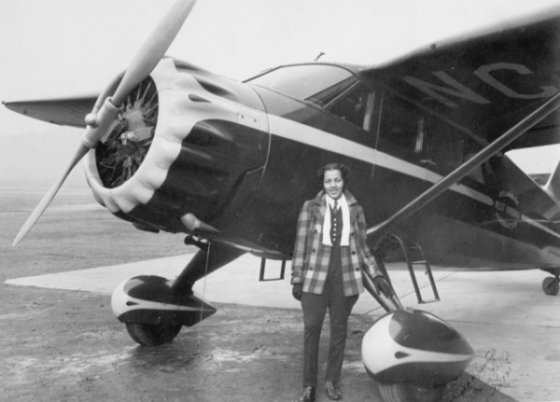 source:
http://wvpublic.org/post/july-30-2006-aviator-rose-agnes-rolls-cousins-dies-86