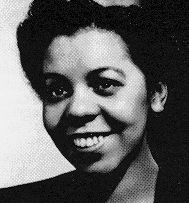 Portia May White was a singer who achieved international fame because of her voice and stage presence. Her popularity helped open doors for talented blacks who later followed. White broke the color barrier becoming the first Black Canadian concert singer to win international acclaim.
White was born on January 15, 1946, the third out of 13 children to William A. White, whose parents had been slaves in Virginia, and Izie Dora White, who was descended from black Loyalists in Nova Scotia.
As a young girl, she began singing in the church choir under her mother's direction at age six. By the age of eight, she was singing the soprano parts from the opera Lucia de Lammermoor and was so determined to become a professional singer that she walked 10 miles a week for music lessons. She started her teacher training at Dalhousie University in 1929 and after graduating became a schoolteacher in black Nova Scotian communities, such as Africville and Lucasville.
During the 1930s, White took voice lessons as a mezzo-soprano with Bertha Cruikshanks at the Halifax Conservatory of Music and sang on devotional radio broadcasts hosted by her father. She received a scholarship to study with Ernesto Vinci at the Halifax Conservatory of Music in 1939, where she began to sing as a contralto. White made her formal debut at age 30 at Toronto's Eaton Auditorium on November 7,  1941.
After struggling to obtain bookings because of her race, White reached the high point of her career with a widely acclaimed recital at New York's Town Hall on March 13, 1944. She was the first Canadian to perform there. The Nova Scotia Talent Trust was established in 1944 specifically to enable White to concentrate on her professional career.
In the late 1940s, White began to have voice difficulties and problems with management, she retired from making public appearances. White herself began teaching voice in Toronto, both privately and at Branksome Hall, a school for girls.
By the mid-1950s she resumed her singing career, although sporadically, singing only a few concerts in the 1950s and 1960s, one of which was before Queen Elizabeth II and Prince Philip at Charlottetown's Confederation Center of the Arts. White died on February 13, 1968.
In 1995, White was named a "person of national historic significance" by the Government of Canada. A millennial stamp bearing her image was issued in 1999, and a life-sized sculpture of her was carved from a tree in front of Truro's Zion Baptist Church in 2004.
sources:
http://www.aaregistry.org/historic_events/view/classical-voice-canada-portia-white
http://www.thecanadianencyclopedia.ca/en/article/portia-white-emc/