The "Syracuse 8" were college football players in 1970 who boycotted football season in a collective effort to demand changes and promote racial equality within the University football program. The students wanted better medical care for injured players and stronger academic support for the Black student-athletes. The group also stressed that they should be able to compete fairly for any position on the starting team; and for racial integration of the football coaching staff.
The "Syracuse 8" was the name given by the media in 1970, but the group actually consisted of nine individuals. They were Gregory Allen, Richard Bulls, Dana Harrell, John Godbolt, John Lobon, Clarence "Bucky" McGill,  A. Alif Muhammad, Duane Walker, and Ron Womack. The situation began with black players accusing their current coach "Floyd Ben Schwartzwalder" of discriminatory practices.
The season began with a home game against Kansas and the most potent riot in Syracuse campus history. A pre-game confrontation between nearly 100 policemen and at least 400 students featured flying rocks, bottles, and wood, pepper gas, and nightstick beatings. After investigation by the school and commission of the situation. The commission concluded in a 60-page report that the students efforts to bring about change were justified. In 2006, at halftime of the SU-Louisville game, the group was recognized and presented with their SU Letterman's jackets, which they never received after leaving the team 36 years ago.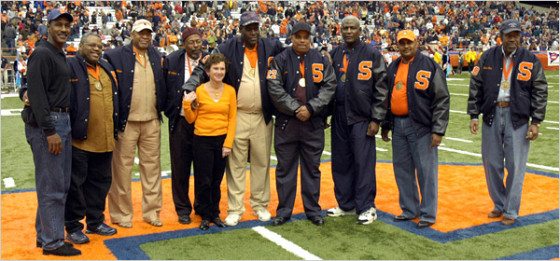 source:
http://aaregistry.org/historic_events/view/syracuse-8-commitment-change