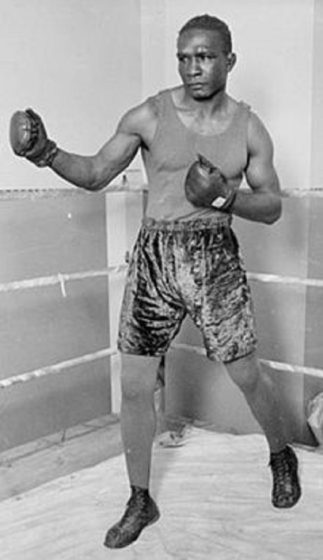 Theodore "Tiger" Flowers was the first African-American middleweight boxing champion, defeating Harry Greb to claim the title in 1926. He was nicknamed the "Georgia Deacon," because he was a devoutly religious man who would recite a passage from Psalm 144 before every fight.
Flowers was born August 5, 1895 to Lula and Aaron Flowers. He began boxing professionally in 1918 at the age of 23 while working at the Philadelphia shipbuilding plant. He might many high profile fighters at this time including Jamaica Kid, Mickey Walker, Sam Langford and many others. In 1924, Flowers was rated the number one contender for Harry Greb's middleweight title by Ring Magazine. Flowers earned a shot at Greb after losing a questionable decision to light heavyweight champion Mike McTigue.
On February 26, 1926, before a crowd of 16,311 at Madison Square Garden, Flowers dethroned Greb by unanimous decision, and would repeat the victory in August, although both results were considered questionable. Tiger's next bout came against Mickey Walker in Chicago. Flowers lost the bout but it was a controversial decision in the eyes of many, which would later be investigated by the Illinois Athletic Commission, but the decision would not be overturned. Flowers died in 1927, while trying undergo eye surgery.
sources:
https://en.wikipedia.org/wiki/Tiger_Flowers
http://www.georgiaencyclopedia.org/articles/sports-outdoor-recreation/tiger-flowers-1895-1927