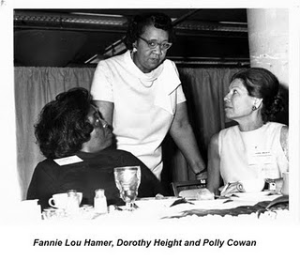 Wednesday in Mississippi (WIMS) is believed to be the only civil rights project run exclusively by a national women's organization. Civil rights activist and President of the National Council of Negro women, Dorothy Height, co-founded the WIMS along with her good friend, Polly Cowan.
The organization brought together white and black women from the Northern Cities to Mississippi in 1964 during the Freedom Summer. The women would arrive in teams in Mississippi with supplies and support for rural communities.
WIMS workers were trained on how to dress and interact with black people when they arrived in the south. Black and white WIMS could not be seen in public talking to each other and were not allowed to lodge in the same location. They always wore white gloves, like most women in the south did at the time. If the women asked why they were visiting from the North, they were instructed to say they were working on a project such as a southern cookbook.
The "Wednesdays Women" had the opportunity to experience first-hand the impact of racial prejudices against blacks and their communities. After arriving in Mississippi, the women would secretly meet with black and white women in the city. The meetings would take place on Thursdays in private homes.
During the meetings, southern women would share their concerns and fears regarding the civil rights movement. It was imperative that the meetings were kept secret due to the negative consequences. The meetings were a spark for change.
After successful efforts in 1964 and 1965, WIMS in 1966 became Workshops in Mississippi, which directed its efforts at alleviating the specific needs of poor women. Projects that grew from these efforts still operate today.
sources:
http://classweb.uh.edu/wims/
http://www.jacksonfreepress.com/news/2014/jul/16/wednesdays-women/