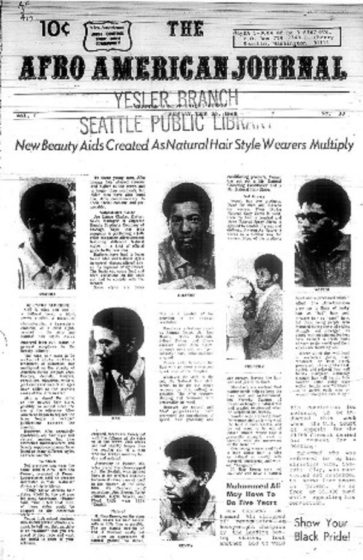 The Afro American Journal was published in Seattle, WA from November 1967 to December 1972.
During its time it was the most militant weekly newspaper to serve the black community. Supporting the principles of black power, the paper gave space to the Black Panther Party, the Nation of Islam, and other activist groups.
The Afro American Journal promoted community self-determination and had strong ties with the Black Culture Center while featuring extensive advertisements from black-owned and operated businesses within the Central District.
The journal was sold for ten cents and began as a five-page Thursday publication (occasionally the paper was issued on a Wednesday due to national holidays). Beginning with their first anniversary of publication, with an issue in November 1968, the Afro American Journal expanded to eight pages.
The paper was edited by E. Loin and Taft Gross, although Taft disappeared from the roster in March of 1968.
source:
original article found at:
http://depts.washington.edu/civilr/news_blair.htm