By C.T. Smith
Alice Allison-Dunnigan was born in 1906 to Willie and Lena Allison, who made their home in Russellville, Kentucky. Allison was reared in a time where African Americans were flourishing in all enclaves of American society. However, both of her parents were sharecroppers. Alice determined not to be a sharecropper, or a domestic turned to education to excel. Alice attended Kentucky Normal and Industrial Institute, which would later become Kentucky State University and became a teacher in a rural school. In 1925, Alice married a tobacco farmer, however, she felt burdened by the farming lifestyle and soon left the marriage.
In 1931, Alice began doing custodial work at the WPA (Works Progress Administration) building. Soon after Alice accepted an unpaid position at M&F College in Hopkinsville, Kentucky as a fundraiser. It is then Dunnigan began writing.  Rising Sun, the popular African-American newspaper published her first poem. Dunnigan's poem captured the attention of an editor at the Kentucky Register and she accepted another unpaid position to write her own column:  Scribbles from Alice's Scrapbook. Which included house-keeping tips and local gossip. Relocating to Louisville, Kentucky in 1935 for a position as society editor for the Louisville Leader really galvanized her career and gained her local notoriety.  It's important to remember that at the time she was writing Alice was one of the only women working in the field of journalism. Many of her male counterparts were paid with regularity and could be certain that they would be called to facilitate interviews and report on local and national news. The same security was not afforded to Dunnigan, yet she persisted.
In the next decade, the United States would enter into and exit WWII. During which Dunnigan became more intrepid in being a successful reporter and journalist.  She returned to Russellville, Kentucky to teach and take courses in journalism at Tennessee A& I University.   In 1936 at the onset of WWII, Alice took and passed a typing exam for a position at the War Labor Board in Washington D.C. Masterfully, Alice Dunnigan also juggled taking night courses at Howard University in statistics and economics and was a freelance writer for the Chicago branch of the American Negro Press.  She would become the only full-time Washington correspondent for the news outlet that reported on stories important to African Americans.  She covered Congress, the White House, and local government, and worked for half of the salary of her male counterparts at the ANP.
At the culmination of WWII, Dunnigan found herself in career limbo.  She was rejected from receiving a congress press pass.  Partly because her fellows at the ANP did not endorse her application. Eventually, in 1947 her application would be accepted, she would be the first African-American woman to receive a congressional press pass.  Not to be deterred by racism and sexism; Dunnigan funded her own trips to cover President Harry S. Truman's west coast campaign.  Another feat.  She often asked questions regarding the plight of African Americans and the burgeoning civil rights movement. Often she was the only African-American present at Truman's west coast rally's and felt a sense of responsibility toward the readers of American Negro Press.
Alice Allison Dunnigan ended her career having successfully traversed the fields of journalism and reporting. In 1955 she became the first African-American member of the Women's National Press Club.  During the presidencies of Eisenhower and Kennedy she continued to posit questions regarding the stance the nation was taking on the civil rights of African Americans.  In 1961, Dunnigan officially left her position at American Negro Press for a full-time position at the White House. Dunnigan would be a staff member on the President's Commission on Equal Employment Opportunity, at triple the salary she had earned as a journalist. In 1967, she held a position on the Council on Youth Opportunity, where she remained until her retirement in 1970.  Before phenomenal women like Oprah Winfrey, Robin Roberts, and Deborah Roberts there was Alice Dunnigan.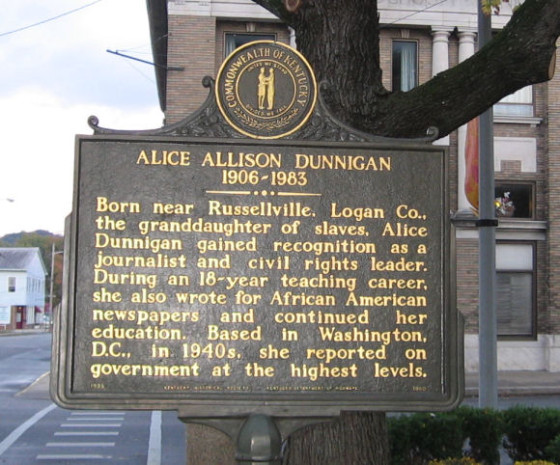 Source: African American National Biography and Encyclopedia of African American History, 1896 to the Present: From the Age of Segregation to the Twenty-first Century