Andre Cailloux was one of the first black officers in the Union Army to be killed in combat during the American Civil War.
Cailloux was born a slave on a plantation owned by Joseph Duvernay near Pointe ala Hache in Plaquemines Parish, Louisiana. When he was five, his master died and he became the possession of his master's widow, who moved him and his parents to New Orleans. Cailloux lived most of his life in and around New Orleans.
After gaining his freedom, Cailloux earned his living as a cigar maker. Prior to the beginning of the Civil War, he established his own cigar-making business. Though his financial circumstances were modest, Cailloux became recognized as a leader within the free Afro-French Creole community of New Orleans.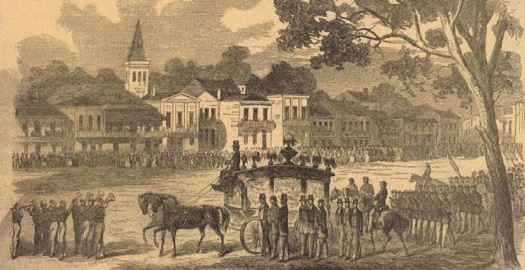 At the outbreak of the Civil War in 1861, Cailloux became a lieutenant in the Native Guard, a Confederate regiment organized to defend the city of New Orleans. He was one of the first black officers in any North American unit. In 1862, he joined the all-black Union Army 1st Louisiana Native Guard regiment. Most of the men were blacks who had escaped from slavery.
Cailloux joined and was made a Captain of Company E, one of the best drilled in the Native Guard. During the siege of Port Hudson on May 27, 1863, Cailloux was ordered to lead his company of 100 men in and almost suicidal assault against Confederate troops. His company suffered heavy casualties, but Cailloux kept encouraging his men and leading several charges.
On his last charge, a mine ball tore through his arm, leaving it hanging and useless by his side. Although he had been wounded severely, he continued to lead the charge until a Confederate artillery shell killed him. Cailloux's body laid out 47 days until Port Hudson finally surrendered on July 9, 1863. He and the rest of the casualties were buried in the area. Cailloux was honored by a long procession and thousands of attendees.
sources:
http://aaregistry.org/historic_events/view/andre-cailloux-civil-war-hero