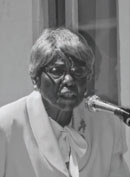 Annie Belle Daniels was a political activist and pioneer businesswoman. Inspired by successful Black leaders and entrepreneurs such as Mary McLeod Bethune and Madam C. J. Walker, Daniels built her own cosmetology empire. She learned a lot about hair and the cosmetology business just by watching women in the community. She later furthered her education at schools in Georgia and Newport News, Virginia.
Daniels was born in Alabama as one of 11 children and migrated to Virginia in the 1930s.
In 1948, Daniels dream became a reality, when she opened her own salon. But Daniels had larger dreams, and that was to create a school of cosmetology. In 1959, Daniels opened the Madam Daniels School of Beauty Culture on Chestnut Avenue where she would go on to train thousands of students.  Daniels believed in "self-confidence and civic pride" which was part of the curriculum at the Madam Daniels School of Beauty Culture.
Daniels, also recruited many new members for civil rights organization, campaigning to increase voter registration, and raising funds for various political and charitable works.
Among her many awards are several from the local and national NAACP for her membership activities and leadership, a Distinguished Citizen Award from the City of Newport News (1990), and Hampton University's President's Citizenship Award (2005). In 2010, Newport News dedicated a historical marker to honor her "untiring humanitarian service and her contributions to the general welfare of the city." Annie Belle Daniels died on April 27, 2017, she was 101.
source:
http://www.lva.virginia.gov/public/trailblazers/2011/daniels.htm