By Lestey Gist, The Gist of Freedom
Sarah Smith Tompkins Garnet was the first African-American female principal in the New York public schools. The eldest of eleven children, she was born Minsarah Smith in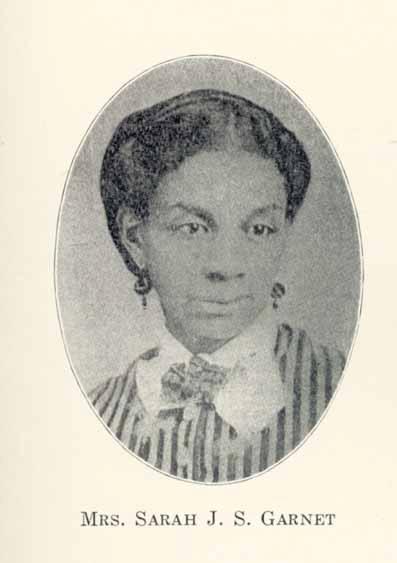 Brooklyn in 1831. Her parents were prosperous farmers, and one of her sisters, Susan Smith McKinney Steward (1847-1918), was the first African-American female in New York state to graduate with the M.D. degree.
In 1854 Smith Tompkins taught at the African Free School of Williamsburg (Maria Miller). In 1863 she was appointed principal of Grammar School Number Four (later named Public School Number Eighty-One) and Public School Number Eighty. She remained in that dual position until she retired in 1900, the year New York repealed a law allowing separate schools for African Americans and whites.

In 1879, she married Henry Highland Garnet. She became a widow when Henry Highland Garnet died in 1882.
An active supporter of woman suffrage and African-American civil rights, Smith Thompkins Garnet was also a businesswoman.
She owned a seamstress shop in Brooklyn from 1883 to 1911. In the late 1880s, Garnet helped found the Equal Suffrage Club, a Brooklyn-based club for black women. Sarah Garnet also served as superintendent of the Suffrage Department of the National Association of Colored Women. Garnet supported the Niagara Movement, a predecessor to the National Association for the Advancement of Colored People (N.A.A.C.P.).
In 1911, Garnet accompanied her sister, Susan Smith McKinney Steward, to London, England, for the first Universal Races Congress. Just weeks after she returned from Europe, Garnet died at home, at the age of 88.
Source: Facebook