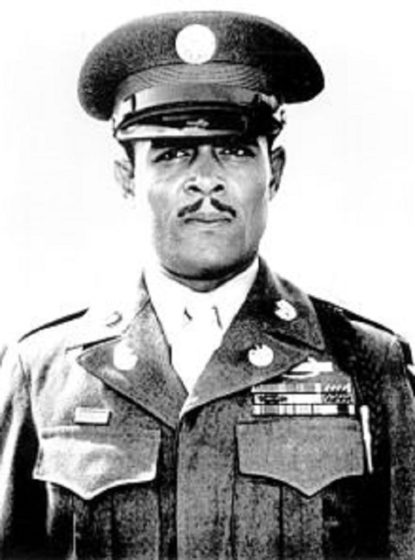 Edward Allen Carter, Jr., joined enlisted in the United States Army in 1941, and because of his previous experience in the Chinese National Army in less than a year, he was promoted to staff sergeant.
Carter was born on May 26, 1916, in Los Angeles, California, but because his parents were missionaries, he grew up in India and Shanghai, China. While in Shanghai, Carter joined the Chinese National Army fighting against the Japanese.
On March 23, 1945, Carter, who at the time was a 28-year-old infantry staff sergeant, heroically acted when the tank on which he was riding was hit by bazooka fire. Dismounted, Carter led three soldiers across an open field. In the process, two of the men were killed and the other seriously wounded.
Carter continued alone and was wounded five times before being forced to take cover. Eight German soldiers tried to capture him, but he killed six and captured the remaining two. He used the two captured Germans as a shield from enemy fire as he recrossed the field. His prisoners provided valuable information on enemy-troop disposition for his unit. For this, he was awarded the Medal of Honor.
Carter was refused re-enlistment in Army in 1949 because of unfounded allegations that, as a result of his affiliation with the Abraham Lincoln Brigade and a Welcome Home Joe Dinner, he had communist contacts and allegiances.
He was one of seven African-American soldiers who was awarded the Medal of Honor on January 13, 1997, by President Bill Clinton. Edward Allen Carter Jr. died of lung cancer on January 30, 1963.
sources:
http://www.militarymuseum.org/Carter.html
https://en.wikipedia.org/wiki/Edward_A._Carter_Jr.