Gilbert Hunt was born a slave in King William County in 1780. He first gained public attention for his heroic actions in 1811, when a dozen women became trapped in a fire at the Richmond Theater. Returning from worship at the Baptist Church, he was about to sit down for dinner when he was startled by the cry that the theater was on fire.
Hunt arrived at the theater to hear that a doctor, Dr. McCaw, was inside and had led women from the lobby to a window. However, they needed something or someone to break their fall. He got a stepladder and placed it against the walls of the burning building and began catching the women jumping from the window.
After all the women had jumped, Dr. McCaw leaped to the ground, breaking his leg. Hunt dragged him to safety moments before a burning wall fell where he had lain; 72 perished in the blaze.
In 1823, Hunt signed on with the Richmond volunteer fire brigade and was present at another major fire, this one at the State Penitentiary. He helped break the bars to rescue 224 prisoners trapped inside. Ironically, many of the prisoners wore the shackles Hunt made in his blacksmith shop, as Hunt had learned blacksmithing as a young slave.
Considered valuable skilled property, Hunt was constantly being sold. During the War of 1812, he worked for the Army. He made carriages for cannons, grappling hooks for boarding vessels, pick-axes, and horseshoes. Hunt had a burning desire to be a freed man. By December 1829, he'd saved enough money to purchase his own freedom.
Independent and relatively well-off, Hunt joined a colonization movement among free blacks. Soon after he bought his freedom, he boarded the schooner Harriet and sailed for Liberia, which was established to be a free black republic on Africa's western coast. Hunt returned to Richmond within a year and began advising free blacks against going to Liberia. Hunt remained in Richmond, became more active in the church, established his own business and acquired property. Hunt died in 1863.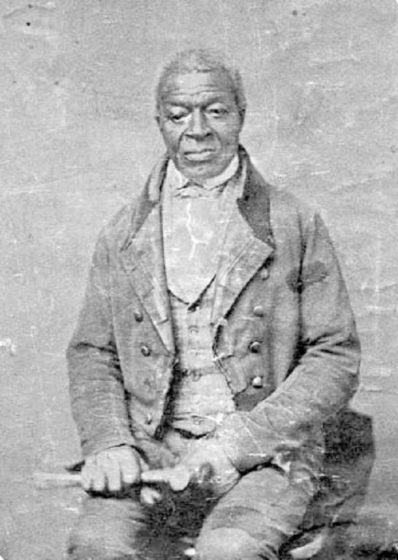 source:
http://carl-leonard.com/2013/12/gilbert-hunt-a-black-slave-heroically-saved-close-to-a-dozen-people-from-the-richmond-theatre-fire-today-in-1811-now-we-know-em/