In 1957 A. Philip Randolph and Bayard Rustin initiated a campaign to pressure the U.S. government to intervene for the civil rights of African Americans. Randolph, who was 68, at the time, was the acknowledged "elder" among civil rights leaders, with a base in the labor movement. Rustin, 57, was a veteran civil rights and peace activist who had coached Martin Luther King, Jr. in the 1955 Montgomery bus boycott.
In the midst of crisis, President John Kennedy reportedly worked the phones with key industrial leaders and won the agreement that a civil rights bill was needed. President Kennedy was in full support of enforcing desegregation in schools and public facilities.
Attorney General Robert Kennedy helped by bringing over 50 lawsuits in four states that would secure the right to vote for African-Americans. All branches of the government impacted the civil rights movement.
President Lyndon Johnson was committed to achieving civil rights goals as well. Congress passed and President Johnson signed the century's two most far-reaching pieces of civil rights legislation: The Civil Rights Act of 1964 and the Voting Rights Act of 1965. President Johnson advocated civil rights, even though he knew it would cost the Democratic Party the South in the next presidential election, and possibly for future elections as well.
FBI director J. Edgar Hoover, concerned about possible Communist influence in the civil rights movement and personally antagonistic to Martin Luther King, Jr., used the FBI to investigate King and other civil rights leaders.
U.S. District Court Judge Frank M. Johnson, Jr., ruled against segregation and voting rights discrimination in Alabama and made the Selma-to-Montgomery March possible.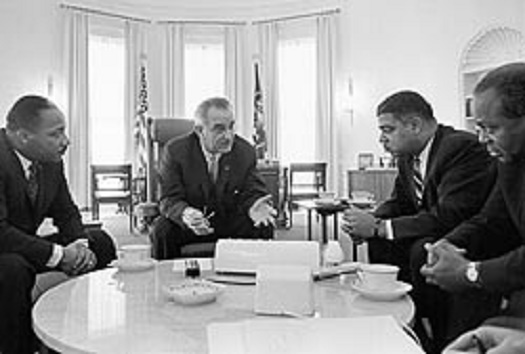 source:
https://www.nps.gov/nr/travel/civilrights/players.htm