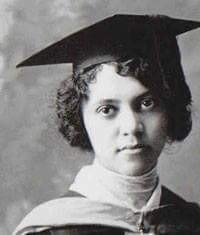 Alice Augusta Ball a Chemist who developed an injectable oil extract that was the most effective treatment of leprosy until the 1940s. She was also the 1st woman and 1st African American to graduate from the University of Hawaii with a Master's degree.
EDUCATION: After returning to Seattle, Ball attended Seattle High School and received top grades in the sciences. She graduated from Seattle High School in 1910 and entered the university of Washington to study chemistry.
During her 4 years there, she earned bachelor degrees in both pharmaceutical chemistry and pharmacy. She also, with her pharmacy instructor, published a 10-page article in the prestigious Journal of the American Chemical Society titled "Benzoylations in Ether Solution." Following her graduation, Ball was offered scholarships to attend the University of California Berkeley and the University of Hawaii.
Ball decided to move back to Hawaii to pursue a master's degree in chemistry. In 1915, she became the 1st woman and 1st African American to graduate with a master's degree from the University of Hawaii.
CAREER: In her postgraduate research career at the University of Hawaii, Ball investigated the chemical makeup and active principle of Piper methysticum (kava) for her master's thesis.
While working on her thesis, Ball was asked by Dr. Harry T. Hollmann, an assistant surgeon at Kalihi Hospital in Hawaii, to help him develop a method to isolate the active chemical compounds in chaulmoogra oil.
Chaulmoogra oil had previously been used in the treatment of Hansen's disease (leprosy) with mixed results. Most patients with Hansen's disease were hesitant to take the oil over the long term because it tasted bitter and tended to cause an upset stomach.
Ball developed a process to isolate the ethylesters of the fatty acids in the chaulmoogra oil so that they could be injected, but died before she could publish her results. Another chemist at the University of Hawaii, Arthur L. Dean, continued her work and began producing large quantities of the injectable chaulmoogra extract.
In 1918, a Hawaii physician reported in the Journal of the American Medical Association that a total of 78 patients were released from Kalihi Hospital by the board of health examiners after treatment with injections. The isolated ethyl ester remained the preferred treatment for Hansen's disease until sulfone drugs were developed in the 1940s.
HER LEGACY:
🔬Although her research career was short, Ball introduced a new treatment of Hansen's disease which continued to be used until the 1940s.
🔬The University of Hawaii did not recognize her work for nearly 90 years. In 2000, the university finally honored Ball by dedicating a plaque to her on the school's lone chaulmoogra tree behind Bachman Hall.
🔬On the same day, the former Lieutenant Governor of Hawaii, Mazie Hirono, declared February 29 "Alice Ball Day" which is now celebrated every four years.
🔬More recently, Ball was honored by the University of Hawaii Board of Regents with a Medal of Distinction in 2007.
Read more amazing stories like this at: Daily Black History Facts