Samuel E. Greenlee, Jr., was an African-American writer who was best-known for his controversial novel "The Spook Who Sat by the Door." The book was first published in London, after being rejected by dozens of mainstream publishers. However, the book went on to be selected as "The Sunday Times Book of the Year." Greenlee's book was made into a movie in 1973 and directed by Ivan Dixon, co-produced and written by Greenlee.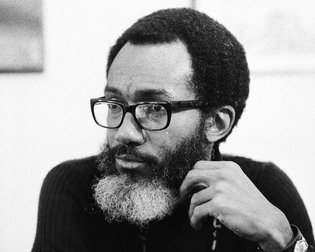 Greenlee was born in Chicago. He attended the University of Wisconsin and the University of Chicago. He was also a member of Kappa Alpha Psi fraternity. Greenlee served in the military from 1952-1954 where he earned the rank of first lieutenant. After leaving the service, he lived in Greece where he studied at the University of Thessaloniki and lived on the island of Mykonos. He began to write his first novel, The Spook Who Sat by the Door, the story of a black man who was recruited as a CIA agent and having mastered the skills of a spy then uses them to lead a black guerrilla movement in the United States.
Other works by Greenlee include Baghdad Blues, a 1976 novel based on his experiences traveling in Iraq in the 1950s and witnessing the 1958 Iraqi revolution, Blues for an African Princess, a 1971 collection of poems, and Ammunition. In 1990 Greenlee won the Illinois poet laureate award. He also wrote short stories and plays. Greenlee died in Chicago at the age of 83.
Source:
http://www.thehistorymakers.com/biography/samuel-greenlee-41