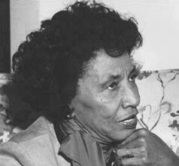 Undine Eliza Anna Smith Moore was a notable and prolific African-American composer of the 20th century. She was also a professor emeritus at Virginia State University. Moore wrote more than 100 compositions, of which only about 26 were published in her lifetime.
Moore was born on August 25, 1904, in Jarratt, Virginia. She was the granddaughter of slaves. Her family moved to Petersburg, Virginia, in 1908, where she discovered her love of music and began studying piano. After completing her primary education, Moore attended Fisk University, where she studied piano with Alice M. Grass.
In 1924, at the age of 20, she became the first graduate of Fisk University to receive a scholarship to Juilliard. She graduated cum laude in 1926, and took a job as supervisor of music for the public school system in Goldsboro, North Carolina. She commuted to New York's Columbia University between 1929 and 1931 and received her Master of Arts in Teaching.
Moore married Dr. James Arthur Moore in 1938; he was the chair of the physical education department at Virginia State College. Moore began teaching piano, organ, and music theory at Virginia State College in 1927, remaining a member of the faculty until she retired in 1972.
Moore co-founded and co-directed the Black Music Center at Virginia State from 1969 to 72. The Center was responsible for bringing to the campus leading black composers and lecturers.
She wrote in many musical genres, including compositions for solo voice, chamber ensemble, various solo instruments, and a large number of choral works. Her best-known compositions include Afro-American Suite for Flute, Cello, Piano recorded by Trio Pro Viva; and The Lamb recorded by the Virginia State College Choir.
Among her many awards were the National Association of Negro Musicians Distinguished Achievement Award in 1975, the Virginia Governor's Award in the Arts in 1985, and a Candace Award from the National Coalition of 100 Black Women in 1984. Undine Smith Moore died in Petersburg, Virginia on February 6, 1989. A composition by Adolphus Hailstork, "I Will Lift Up Mine Eyes," was written in tribute to Moore.
source:
http://www.aaregistry.org/historic_events/view/undine-moore-composer-note-and-innovative-music-teacher