"El Negro of Banyoles" was the name given to a stuffed human body that was once displayed at the Francesc Darder Museum of Natural History in Banyoles, Spain, between 1916 and 1997. However, the body was removed after protests by Africans and people of African ancestry began around the time of the 1992 Barcelona Olympics. The body was eventually repatriated to Africa and was re-buried in Gaborone, the capital of Botswana, on October 5, 2000.
Just who was El Negro of Banyoles. It is believed that he was Batlhaping, people living around the confluence of the Orange and Vaal rivers, possibly in the village of Kgatlane. He was young around the age of twenty-seven and died around 1830. The story has it, his body was stolen and stuffed by two French taxidermists, the Verreaux brothers. They took the body to Paris with thousands of other specimens from Africa and displayed it as the "Bechuana" (A Tswana person from South Africa) in their shop.
The body was purchased by Frencesc Darder, a Spanish naturalist, who displayed it at the 1888 Barcelona World Exhibition. It then went with the rest of his taxidermy collection, after his death, to a new museum named after him at Banyoles. Here the body became popularly known as "El Negro" because it was painted black. It now represented all "Negro" people and became a symbol of Spanish exploitation and enslavement of black Africans. It also raised questions about the representation of dead human bodies in museum displays.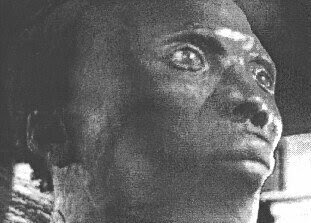 Source:
http://usslave.blogspot.com/2011/04/el-negro-of-banyoles.html
http://www.thuto.org/ubh/afhist/elnegro/banyol.htm