Richard Ewell was the first African American to win a national title in both pair skating and single skating. He won National Junior Men in 1970, and in 1972, won the National Junior Pair skating title with Michelle McCladdie, another African American.
Ewell was born in Los Angeles, where he also grew up. He began skating in 1963. Before going to the rink the first time, his mother called and asked if blacks were welcome to skate at the location. During this time, there were still obstacles African-Americans encountered.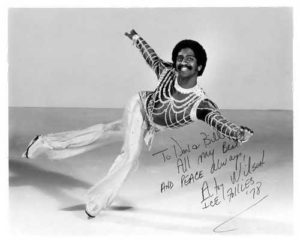 Mabel Fairbanks, who became a legend in her own right, was at the rink on that particular day. Ewell's mother approached Fairbanks and asked her about lessons. Soon the whole Ewell family were taking skating lessons under Fairbanks together. However, the first arena at which the Ewell family skated, The Polar Palace, burned down in April of 1963. After the rink burned, the Ewell family looked for another location. The family decided to try a skating rink in Culver City, California. Ewell showed exceptional talent, especially at jumping. He was so good at it that some said that he might possibly become the first man to ever land a quadruple jump.
Ewell was accepted into the All Year Figure Skating Club, he passed figure skating tests quite quickly. In those days, to enter qualifying events, a skater had to pass a series of compulsory figure tests, which was quite a task for Ewell, since his talent was in jumping and not in the compulsory figures.
At his first regionals, he won the novice men's event. Two years later, in 1969, he qualified for nationals in the junior men's division. At the 1970 U.S. Championships, Ewell was not expected to win the junior division, but he surprised everyone, including himself. He placed sixth in figures and then performed the free skate of his life.
Ewell was teamed up with Michelle McCladdie, another African American in 1968. The team won the novice pairs event at the Southwest Pacific regionals and at the Pacific Coast sectionals in 1969. In 1970, they moved up to the junior level and placed second at the Southwest Pacific regionals but came in fourth in the Pacific Coast sectionals, falling short of qualifying for nationals.
After winning the U.S. junior pairs title in 1972, McCladdie and Ewell decided to go pro, they toured with the Ice Capades. McCladdie skated with the show for only two years, but Ewell continued with it for 12 years. The Ice Capades had never had an African-American figure skating star until Ewell and McCladdie joined.