John Robert Clifford is well noted for publishing the leading African-American newspaper of its era. He was also the first black attorney admitted to the West Virginia state bar. Clifford also won a trailblazing victory in Williams v. Board of Education that found discriminatory practices in public education illegal.
In 1848, Clifford was born in Williamsport, Virginia, to a family of free Blacks who had inhabited the area for generations. Because the school system was segregated and there were no black schools in the region, he was sent to Chicago to study in the early 1860s. At age 15, Clifford enlisted with the United States Colored Troops and served in the Civil War from 1864 to 1865 with the 13th U.S. Heavy Artillery.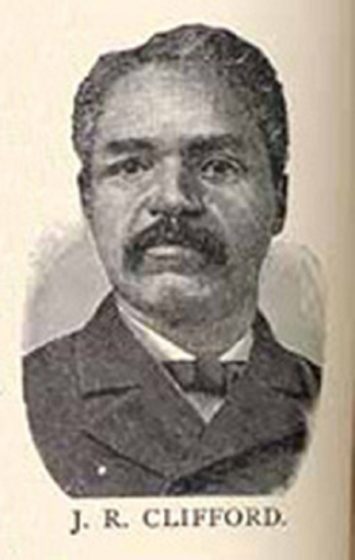 Clifford established The Pioneer Press, a weekly newspaper that had a national and predominantly African American readership. He published the paper until 1917, when the federal government forced him to shut it down because of his criticisms of U.S. policy in World War I.
In Martin v. Board of Education, Clifford took the first legal challenge of public school segregation to the Supreme Court of Appeals to West Virginia. The Martins were the only Blacks in a white region of the state that offered no separate school for black children. Thomas Martin insisted on his children's right to an education and petitioned to have them attend the local whites-only school.
The court, however, ruled in 1896 that the children were not permitted to attend the white school, the consequences for their education notwithstanding. The state's segregated schools policy endured until the U.S. Supreme Court decision in Brown v. Board of Education of Topeka, Kansas in 1954, which held that separate black schools were inherently unequal and, therefore, unconstitutional.
Clifford practiced law for 45 years, becoming active in politics at both the state and national level. He was the first Vice-President of the American Negro Academy, and served as President of the National Independent League. John Robert Clifford passed away at the age of 85 in 1933.
Sources:
https://en.wikipedia.org/wiki/J._R._Clifford
http://blackhistorynow.com/j-r-clifford/