Pilot Eugene Bullard was the first African American to fly a fighter plane and was known as the "black swallow of death" for his courage during missions. He led a colorful life, much of it in Europe.
Eugene Jacques Bullard was born in Columbus, Georgia on October 9, 1895.  After witnessing lynch mobs and other racial violence, Bullard left his hometown at the age of twelve destined for France and its less racially-divisive society. He stowed away on a train to Norfolk, Virginia and then on board a German ship bound for Europe. He worked odd jobs in Scotland and England, some in the underground world of gambling, before eventually arriving in Paris, France, his long-time destination. In 1914 at the age of 19 but claiming he was older, Bullard enlisted in the French Foreign Legion. He fought in at least three battles on the front but was pulled out of action after being wounded by an artillery shell. Bullard was awarded teh Croix de Guerre for heroism. On medical leave, he bragged that he could fly a fighter plane and on a bet wrangled a spot in a French flight training school.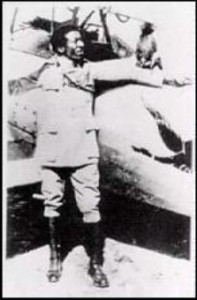 Bullard learned to fly, joined the then small French air corps on May 5, 1917, flew twenty sorties, and quickly became known for flying into dangerous situations often with a pet monkey.  When the United States formally entered World War I, many American expatriates applied for transfers to U.S. forces.  Despite his flight experience, Bullard's application was denied, and the United States military further pressured France to permanently ground Bullard in order to uphold the U.S. policy against African American pilots. France succumbed, and Bullard was taken off of aviation duty.
After the war, Bullard discovered jazz, learning to play drums in Paris nightclubs and eventually owning two nightclubs of his own. He married Marcelle Straumann and had two daughters, but the marriage ended in divorce. After Germany invaded France in 1940, Bullard began working as a spy for the French Resistance and then escaped to the United States with his daughters. He established a new life in New York City, New York, again working odd jobs that included selling perfume and operating the elevator of the RCA building, home to The Today Show. In 1954, Bullard was interviewed for the show.
By this point he received recognition in France.  In 1954 the French government invited Bullard to lay a wreath at the Arc de Triomphe and four years later French President Charles de Gaulle awarded him the Legion d'Honneur.
Eugene Jacques Bullard died of stomach cancer in Harlem on October 12, 1961 at the age of 66.  In 1994, he was honored posthumously by the Smithsonian Institution's National Air and Space Museum and the same year the U.S. Air Force posthumously promoted him to Second Lieutenant.
Sources:
Craig Lloyd, Eugene Bullard: Black Expatriate in Jazz-age Paris (Athens, GA: University of Georgia Press, 2000); P.J. Carisella, James W. Ryan, and Edward W. Brooke, The Black Swallow of Death: The Incredible Story of Eugene Jacques Bullard, The World's First Black Combat Aviator (Boston: Marlborough House, 1972); William A. Shack, Harlem in Montmartre: A Paris Jazz Story Between the Great Wars (Berkeley: University of California Press, 2001); "Eugene Bullard," Contemporary Black Biography. Vol. 12 (Detroit: Gale, 1999).
– See more at: http://www.blackpast.org/aah/bullard-eugene-jacques-1894-1961##sthash.XlzoHRH3.dpuf