After the Civil War, schools were being formed across the south for former slaves. One college in particular that was created during this time was Storer College in Harper's Ferry, West Virginia. 
Storer started as a primary school in 1865. The school weathered racist attacks because it dared to educate blacks. However, the school was not only a place to educate students, it also contributed to the birth of the modern civil rights era, and the school was a place of refuge for many young men and women.
Storer primary school was founded by Free Will Baptists. Two years later, a matching grant from Maine's John Storer, a white abolitionist who made his money in shipping, launched Storer College with the provision that it be open to all races and sexes.
However, the townspeople of Harpers Ferry did not want a school that educated blacks. Therefore, the citizens were constantly causing trouble for the school and students. The school's earliest presidents were white, and many teachers who attempted to teach at the school reported having rocks thrown at them. When the first black president arrived in 1944, a cross was burned on his lawn.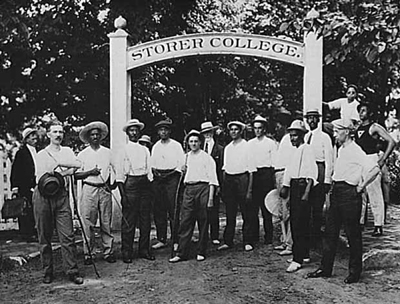 The school, which attracted a significant amount of attention, was located a mile away from the site where abolitionist John Brown led the raid in 1859 that hastened the Civil War. Frederick Douglass, a trustee at the time, gave his famous speech about the "brave and the good old man" at the school in 1881. The Niagara Movement also met at the school in 1906.
Eventually, the school fell on financial hardships. By the mid-1900s, Storer was doing everything possible to stay open by putting on fundraisers, taking out small loans, and even selling school property. However, after the 1954 ruling on Brown v. Board of Education, the state defunded Storer, claiming black schools were unnecessary. A 1960 federal law gave the Storer campus to Harpers Ferry National Historical Park. The campus became an office complex.
sources:
http://www.blackpast.org/aah/storer-college-1867-1956
https://www.nps.gov/hafe/learn/historyculture/storer-college.htm