William Henry Webb, known as "Chick Webb," was an American jazz, swing music drummer, and one of the top band leaders of his time.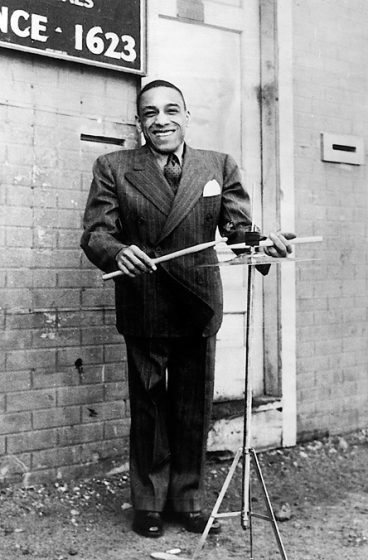 Webb was born February 10, 1905, in Baltimore, Maryland, to William H. and Marie Webb. He suffered from tuberculosis at a young age, leaving him with short stature and a badly deformed spine, which caused him to appear hunchbacked.
The idea to a play a music instrument came from his doctor, who believed it would help "loosen up" his bones. As a child, Webb worked as a newspaper boy to help support himself and purchase drums. By the age of 11, he was playing professionally. At the age of 17, he moved to New York City, and by 1926, he was leading his own band in Harlem. Jazz drummer Tommy Benford gave Webb drum lessons when he first reached New York.
In 1931, his band became the house band at the Savoy Ballroom. He became one of the most highly regarded bandleaders and drummers of the new "swing" style.
The Savoy often featured "Battle of the Bands," during which Webb's band would compete against other top bands. When bands competed against one another, most feared going up against Webb's band. In 1937, Webb lost to Duke Ellington. However, in 1938, Webb's band was declared winner over Count Basie's band.
Webb married Martha Loretta Ferguson (also known as "Sallyee"), and in 1935, he began featuring a teenage Ella Fitzgerald as vocalist. Together, Webb and Ella would electrify the Swing Era of jazz with hits such as "A-Tisket a Tasket.
Chick Webb died from spinal tuberculosis on June 16, 1939. Reportedly his last words were, "I'm sorry, I've got to go." Ella Fitzgerald continued to lead Webb's band until she left to focus on her solo career.
sources:
http://www.imdb.com/name/nm1352264/
http://www.drummerworld.com/drummers/Chick_Webb.html
https://en.wikipedia.org/wiki/Chick_Webb