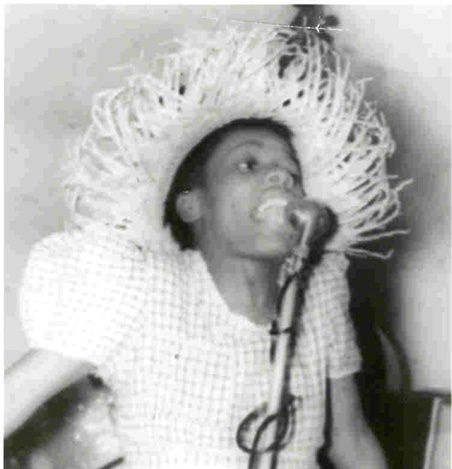 Little Miss Cornshucks was the stage name given to Mildred Jorman. She was a songwriter, R&B singer, and jazz singer.
Mildred Elizabeth Cummings Jorman was born in Dayton, Ohio. She was the youngest child of a large musical family. She made her early child debut singing with her sisters in a group called the "Cummings Sisters." The group performed spirituals throughout the Dayton area.
By the age of seven, Jorman was making solo appearances in amateur talent shows. She soon developed a stage wardrobe that appealed to black southern agricultural workers who at the time were migrating from the south to northern cities in the United States.
Little Miss Cornshucks performed barefoot, with a straw hat, braids, backwoods clothes and a basket to evoke memories of the south. She would start her performance by staring blankly and picking her nose. The act would then start with performing the latest dances and songs.
She married Cornelius Jorman in 1940 and they had three children. Her husband worked as her manager and attended her performances. Jorman grew to fame throughout the Chicago area. She was signed to contract to the famous then Club Delisa. Her signature tune was "So Long" and was a regional hit in 1943 for the short-lived Sunbeam label.
Due to health reasons, Jorman's career was interrupted in the mid-1940s. She returned to Ohio and shortly after divorced her husband who was involved in the drug trade. Her Sunbeam recordings were republished on the Old Swingmaster label.
In 1948, Jorman was billed as "the new look in comedy" and "a rustic comedienne." She had a small film role in Campus Sleuth, a 1947 B-movie made by Monogram Pictures. In the 1960s, she came out of semi-retirement and recorded an LP for the Chess label, entitled The Loneliest Gal in Town. However, success eluded her and went to Aretha Franklin who recorded a single of the LP's soul-style version of "Try a Little Tenderness," which she had a huge success. Mildred Jorman died in Indianapolis, Indiana in November 1999; she was 76.
Source:
http://www.mtv.com/artists/little-miss-cornshucks/biography/